---
The factory was founded in 1932 by Antonio Ferro and his sons Egidio and Ottone, as well as by Galliano Ferro and Emilio Nason.

Vittorio Zecchin designed the first products. They showed ease and simplicity. The product line changed very soon. It developed to massive objects and figures.

The firm was present from the beginning of the Venice Biennale. The artistically most interesting phase of the factory was from 1940 to 1960, when Giulio Radi was the artistic director. He experimented with metal oxides and murrhines, and combined simple shapes with gold and silver powder. After his sudden death in 1952, this phase ended abruptly. At the Venice Biennale in 1966, a retrospective with 15 objects was held. They had been made by Luciano Ferro, according to his ideas. Another outstanding product of this firm is the "Anse Volante" of Giorgio Ferro, which had been shown at the Biennale of 1952.

Galliano Ferro left the factory in 1955 because of a dispute. He took some of the best glassblowers and his sons with him. At the same time, the painter Luigi Scarpa Croce, known for his work of stained glass windows, worked together with Anzolo Fuga and A.VE.M. They created large asymmetric objects with abstract decors. Master Luciano Ferro carried out most objects. 
Shop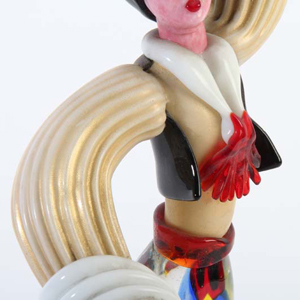 share